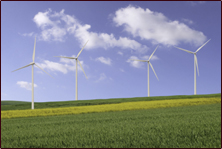 HCA has extensive experience working with rural municipalities and organizations and helping rural communities and residents assess their development options. The HCA team is well-informed of rural issues and has a strong practical orientation to agriculture. Members are in touch with the perspective of the agriculture community. Their collective work experience encompasses many different farming activities including managing farms, field crop production, livestock management, greenhouse production and food processing.
HCA is a known leader in supporting and promoting the agriculture sector. We have led the way in researching and documenting the economic impacts of agriculture in every region of the province. Our experience in this field of research and analysis extends back to 1998 when we developed a methodology for conducting agricultural impact assessments at the local/regional level. To date HCA has completed agri-economic impacts studies in over 25 counties/districts and surveyed over 2,500 agriculture related businesses. We have also examined the economic impacts of farmers' markets across Ontario and the aquaculture industry in Northern Ontario.
HCA also specializes in addressing strategic planning and policy issues in rural communities. This includes examining the development of local food systems which is a growing area of interest in North America and elsewhere and is viewed as a logical strategy to improve community economic vitality.
Our clients include federal and provincial government departments and ministries including Agriculture and Agri-Food Canada, FedNor, Industry Canada, Human Resources Development Canada, the Ontario Ministry of Agriculture, Food and Rural Affairs, and the Ontario Ministry of Economic Development and Trade. HCA has also worked on agricultural and rural development projects for a number of municipalities in Ontario and other provinces including the Township of Norwich, the Town of Markham, Waterloo Region, the City of Sarnia, the City of Ottawa, and the Town of Amherst (Nova Scotia).
HCA is currently working on…
Northeast Community Network

(NeCN) Cochrane District Agri-Food Land Assembly Project
Some of our more recent projects include:
Measuring the Economic Impact of the Ontario Risk Management Program (Ontario Agriculture Sustainability Coalition)
Simcoe County Food & Agriculture Charter Evaluation Plan & Baseline Data Collection
Innisfil Creek
An evaluation of the Ontario Beef Farmers Leadership Program on behalf of the Rural Ontario Institute.
An assessment of the agricultural resource in the Blackwell Marsh area of the City of Sarnia and recommendations for maintaining and improving the resource including near urban agriculture opportunities.
An assessment of small scale / micro farming opportunities in southern Ontario including the development of an agricultural co-operative facility that supports the small farms through the provision of shared production resources, including shared equipment and the services of professional agrologists and horticulturalists.
An overview of trends and changes in agriculture production and activity in the Ontario Greenbelt between 2001 and 2006.
An economic impact study of the agriculture sector in each of the Northern Ontario Districts on behalf of the Northwestern Ontario Development Network and working in partnership with the Food Security Research Network (Thunder Bay), and local Federations of Agriculture.
A literature review of the Economic Impacts of Biofuel Development on Communities and a literature review of the Community and Regional Impact of Innovation Commercialization and the Value-Added Bioeconomy on behalf of Agriculture and Agri Food Canada through the Bioproduction and Communities Research Initiative.
An evaluation of the Community Transition Program, a $15 million grant fund established by the Province of Ontario to assist the tobacco-growing communities of the counties of Brant, Elgin, Norfolk and Oxford to move to a more diverse economic base.
A Food Flow analysis study for the Region of Waterloo which involved the development of a 'Food Basket' for Waterloo Region and tracing the food flow of the food basket items from producer to consumer.
An economic impact assessment of the Ontario Aquaculture industry on behalf of Northern Ontario Aquaculture Association.
A strategic plan for the Northern Producer Animal Health Network including SWOT analysis and measurable goals and objectives.
An Agri-Food Strategy for Nova Scotia on behalf of the Nova Scotia Federation of Agriculture.
To see additional detail on these and other projects, please click here
The following HCA reports are available for download