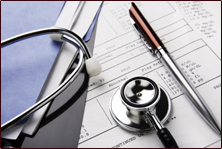 HCA has developed and implemented numerous evaluation frameworks in the health sector. The HCA team has also been instrumental in developing, reviewing and refining guidelines, standards, policies and procedures for a variety of health sector clients. We also provide training to a variety of health organizations in evaluation capacity building.
HCA is familiar with health profession standards, guidelines and policies. In HCA's work with the Health Professions Regulatory Advisory Council (HPRAC), Harry developed a framework for evaluating the quality assurance guidelines of all 21 Colleges of Health in Ontario, including the Royal College of Physicians and Surgeons, and then implemented the evaluation. HCA have also been contracted by the individual Colleges of Health to review their guidelines.
HCA has worked for a wide variety of health related organizations including ministries of health, colleges of health, national continuing education councils, cancer organizations, hospitals, community health centres, health units, family healthcare teams, clients/patients and other stakeholder groups.
HCA is currently working on…
HealthForce Integration Research and Education for Internationally Educated Health Professionals PHASE 2
Some of our more recent projects include:
Canadian Association of Medical Radiation Technologists (CAMRT)- Member Satisfaction Survey
Facilitated a 2-day workshop for the Southwest Ontario Aboriginal Health Access Centre on Program Planning and Program Evaluation Planning.
A community picture (i.e. statistical profile and socio-demographic profile) for the service delivery area of the Perth District Health Unit to support the objectives of the Ministry of Health Promotion and Sport Healthy Communities Fund.
An environmental scan, communications plan and community consultation on behalf of the North Bay Parry Sound District Health Unit. This work is being undertaken in partnership with Adhawk Communications.
A summative evaluation of the Community Action Program for Children (CAPC) on behalf of the Public Health Agency of Canada.
An evaluation of the Community-based Home Management of Malaria Project (HMM) in Kenya on behalf of Canadian Red Cross.
An evaluation plan including a program logic model, evaluation matrix, list of key performance measurement indicators and a data collection tool on behalf of Northern Region-Health Canada.
Methods for evaluating client satisfaction on behalf of the Kitchener Downtown Community Health Centre.
An evaluation of the Enhanced Emergency Department Pilot Project to Hire Physician Assistants and Nurse Practitioners in partnership with Med-Emerg International Inc. on behalf of the Ontario Ministry of Health and Long Term Care.
An evaluation framework and evaluation plan for HealthForce Ontario (Ontario Ministry of Health and Long Term Care) using a Results-Based Approach.
An evaluation plan which included a project logic model and evaluation matrix for Healthkick Huron, an initiative sponsored by the Huron Business centre to attract and retain health care providers to rural areas.
An evaluation of the Newfoundland and Labrador Primary Health Care Renewal Initiative which included the development and implementation of evaluation frameworks for 8 pilot sites across the province, Conducted in partnership with Med-Emerg International Inc. on behalf of the Government of Newfoundland and Labrador.
An evaluation of a Vegetable and Fruit Behavioral Intervention pilot program (Take 5) on behalf of Cancer Care Ontario.
An evaluation of the Patient Relations Programs for the 21 Colleges of Health Professions in Ontario on behalf of Health Professions Regulatory Advisory Council, Province of Ontario, affiliated with the Ministry of Health.
An assessment of usage patterns of doctors and other health care professionals on behalf of the East Wellington Health Team / East Wellington Advisory Group.
A Spanish-language training workshop on program evaluation for health professionals in Santiago, Chile in partnership with the Centre for Addiction and Mental Health and the participation of the Universidad Católica de Chile and Agencia QUALITAS.
A baseline profile of physical activity for youth and adults on behalf of the in motion program and the Huron and Perth County Public Health Units.
An evaluation of mental health programs for women and male psychiatric offenders and male sex offenders provided by Institut Philippe-Pinel de Montréal on behalf of Correctional Service Canada.
To see additional detail on these and other projects, please click here
Available projects for download