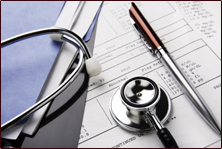 HCA has developed and implemented numerous evaluation frameworks in the health sector. The HCA team has also been instrumental in developing, reviewing and refining guidelines, standards, policies and procedures for a variety of health sector clients. We also provide training to a variety of health organizations in evaluation capacity building.
HCA is familiar with health profession standards, guidelines and policies. In HCA's work with the Health Professions Regulatory Advisory Council (HPRAC), Harry developed a framework for evaluating the quality assurance guidelines of all 21 Colleges of Health in Ontario, including the Royal College of Physicians and Surgeons, and then implemented the evaluation. HCA have also been contracted by the individual Colleges of Health to review their guidelines.
HCA has worked for a wide variety of health related organizations including ministries of health, colleges of health, national continuing education councils, cancer organizations, hospitals, community health centres, health units, family healthcare teams, clients/patients and other stakeholder groups.
HCA is currently working on…
A National Occupational Analysis (NOA) for the Canadian Dental Assistants Association and the National Dental Assisting Examining Board.
An evaluation of the Co-Creating a Sustainable BC Initiative in Kamloops BC and the Sea-to-Sky Corridor.
An evaluation of the City of St. Thomas Creating Connections Project (walkability study).
An evaluation of the YMCA Plusone Mentoring Program – funded by Public Safety Canada.
An evaluation of the Operation Springboard's and MADD Canada Weed Out The Risk program – funded by Health Canada
Some of our more recent projects include:
A Healthy and Respectful Workplace Survey for the Canadian Dental Hygienists Association and the Canadian Dental Assistants Association.
An evaluation of the Building Diversity, Equity and Inclusion (DEI) in Leadership Training Program on behalf of the Regional Diversity Roundtable (RDR).
An evaluation of the Right To Play – Play for the Advancement of Quality Education program (PAQE) on behalf of Right TO Play (RTP).
An evaluation of the Good Food and Urban Agriculture Programs for FoodShare Toronto.
A Strategic Planning Process for Kingston, Frontenac and Lennox & Addington Public Health.
The HealthForce Integration Research and Education for Internationally Educated Health Professionals PHASE 2.
A member satisfaction survey for the Canadian Association of Medical Radiation Technologists (CAMRT).
Facilitated 2-day workshop for the Southwest Ontario Aboriginal Health Access Centre on Program Planning and Program Evaluation Planning.
A community picture (i.e. statistical profile and socio-demographic profile) for the service delivery area of the Perth District Health Unit to support the objectives of the Ministry of Health Promotion and Sport Healthy Communities Fund.
An environmental scan, communications plan and community consultation on behalf of the North Bay Parry Sound District Health Unit. This work is being undertaken in partnership with Adhawk Communications.
A summative evaluation of the Community Action Program for Children (CAPC) on behalf of the Public Health Agency of Canada.
To see additional detail on these and other projects, please click here.